Renewal of Marriage Vows at Orchardhill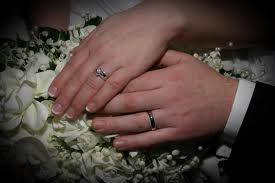 A Renewal of Marriage Vows ceremony is for any married couple who wish to reaffirm the love that has matured and deepened over the years or, perhaps, celebrate a special wedding anniversary. By renewing your marriage vows in a unique and personal ceremony is a public declaration of life-long commitment, love and dedication. It is sometimes particularly relevant to those who have been through a difficult period and now wish to celebrate their renewed commitment to each other.
Significant anniversaries are especially appropriate times for renewing your marriage vows whether it is after 5 years or 50 years - there is no set time: if it feels right the time is right.
Although many Vow Renewals take place at milestone anniversaries the ceremony is just as appropriate at any stage of marriage. It is also ideal for a couple who have married abroad and now wish to celebrate with those family and friends who were unable to attend the wedding. Some couples who were previously married in a Civil Ceremony may after care consideration choose to add a Christian dimension to their marriage promises and we are happy to assist. Whilst the Renewal of Vows ceremony will have no legal status it is a public statement of your continuing love affection and commitment to each other.
Any married couple can arrange a Renewal of Marriage Vows ceremony. It does not matter if you have been married before, as long as you are now legally married to the partner with whom you are having the ceremony. You do not have to be a member of Orchardhill Parish Church, but it would be nice if you joined us in our worship services and gave serious consideration to joining particularly if you live in the area.
A Church based Renewal of Vows Ceremony will have a Christian content and will be an enjoyable event in any circumstances.
Your Unique Ceremony
The minister will help to provide the framework for you to design your own ceremony. You will have the opportunity to discuss the content of your ceremony so you can create something that is unique for you, and your family and friends, to remember and cherish. No two ceremonies are exactly the same, and you are creating a unique event that you both will treasure and your guests will remember. Special people in your lives can take part in the ceremony – your children, guests from your wedding, or special friends and relatives. You can have music of your choice played on CD, or by live musicians if you wish, and you can have someone recite a poem or reading to enhance the ceremony. We can provide you with a choice of poems and readings.
A special commemorative certificate is available and can be presented at the end of the ceremony.
Your ceremony will normally contain some, or all, of the following:-
Special music
Introduction and welcome
Acknowledgement of children of the marriage
Readings/poetry
Renewal of vows
Giving and receiving, or re-dedication, of rings.
Message from minister & you may invite guests from your wedding to say something.
Signing of Commemorative Certificate
Closing words
Orchardhill is a very special place and we will be happy to accommodate you and to celebrate your special occasion.