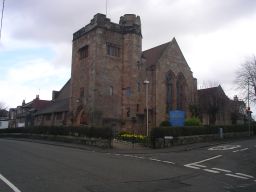 "There is no such thing as a terminus in the Christian life, only a through-station to the next stage"...... Adam Burnet.

Situated just outside the Glasgow boundary, in the East Renfrewshire village of Giffnock, and set above Fenwick Road at Church Road, Orchardhill Church was built on a rise above fruit-growing orchards and farmland.... hence the name Orchardhill.
The building, designed by architect Henry Clifford, from the plans of an Oxfordshire church, is of Giffnock quarry stone, (as are Glasgow City Chambers, Australia's Parliament buildings in Canberra and some of Dublin's public buildings).
Giffnock then was little more than a village. A small number of inhabitants had been worshipping for a time in Eastwood Golf Clubhouse (where Abbeyfield House now stands). Some of that group formed a committee to plan for a real, purpose-built church. There were grants from various bodies, much local fund-raising and generous donations. One May morning after Orchardhill's opening service the enterprise was intimated 'debt free. Within three years a handsome gift from Andrew Carnegie bought Orchardhill a fine pipe organ to replace the existing American Harmonium.
The congregation took root, with 128 members and families from the small Giffnock community. The early years were unsettled by the 1914-18 war and the loss of twenty-three men. But under the charge of its first four ministries, it established itself firmly. Those ministries were :- Dr James Weatherhead, Dr Arthur Cowan, Dr Adam Burnet and Reverend Robert McIntyre. Those men served Orchardhill well, then departed to larger, better-known and more established charges.
By then the church was a landmark in the district, where the population was fast growing, with new roads and avenues, with rows of houses catering for the migration from the city to suburban Giffnock.
A large hall was added to serve the increasing number of organisations; and a later second extension of the sanctuary and hall space accommodated increased numbers at Sunday Worship, and other groups making up church life. Car-parking facilities appeared for increasing numbers of cars.
Parish and congregation were by then well established, and ministries became longer, so that between 1936 and 2004, only two men occupied the pulpit and shepherded the flock. They were Reverend Hamish MacKenzie, a notable preacher, who led the congregation through the difficulties of the Second World War, with its evacuees into Giffnock, the government's commandeering of some Orchardhill premises, the shortages, black-out, local bombing and the deaths of sixteen young Orchardhill service-men. Following Hamish MacKenzie came Reverend John Spiers, approachable and caring, pastor and friend to his large congregation.
For the Millennium and the centenary of the church buildings, The Rev John Spiers oversaw the complete remodelling of the sanctuary with a fresh new modern look and state of the art sound system along with new individual seating, which allowed greater flexibility as to the use of the sanctuary.
From 2005 - 2015, Our Minister was Reverend Chris Vermeulen and from 2006 - August 2009 he was assisted by Reverend Dr Daniel Frank for a three year contract in the fields of mission and discipleship.
In 2016 Orchardhill welcomed the Reverend Dr Grant Barclay to lead the congregation into a new era of ministry. Dr Barclay former Convener, Church of Scotland Council of Assembly came to Orchardhill from St Kentigerns Church in Kilmarnock. However, in 2020 Dr Barclay was called to be interim Presbytery Clerk for Glasgow, and a new young Minister was inducted in December 2021. Reverend Gillian Rooney had been serving as our probationer minister since October 2020 and when Dr Barclay left she took over all aspects of church life. In September 2021 She was invited to lead the congregation forward and on the 2nd December 2021 she was ordained and inducted into Orchardhill. Rev Rooney is married and has three young children who already are very active about the church. Reverend Rooney's enthusiasm for youth work has already seen the introduction of several family style programmes where she is ably assisted by our youth and family worker Lorna Buchan.
Nowadays, in 21st Century church, families find a wide choice of groups through which to serve, witness, find friendship and support. We have a number of House Groups and Study Groups who meet regularly to discuss and explore faith. With over 36 Organisations and Groups, covering all ages and a wide range of interests, we reach out to our community and engage with many other community groups to share Gods love as caring people.
We are a thriving congregation with a vision for the future and we would love to welcome you as part of our family. Please explore the website for further information. Our Church Office (0141 638 3604) is open Tuesday Friday mornings.
Orchardhill has over 120 years of history with a church and congregation ready for the next Chapter.


Prepared and published by kind permission of the late Anna Blair, with additional edits by the congregation.
( Anna Blair author of over 13 books including the acclaimed "Croft and Creal" and "Tea at Miss Cranston's")